Lost Your Digital Photos from Mac? Don't Panic!
Amrev Mac Photo Recovery is extremely advanced tool to recover lost and deleted photos, videos and audio files. Intensive scan is used to recover lost or deleted data. Software can deal with all types of data loss situations (some reasons are mentioned below) and recovers images, audio and video files with most accuracy rate.
It can recover accidentally lost / deleted photos, audio and video files from iPhoto library, memory cards, iPods, camcorders, USB flash drives and hard drives. In addition, photo recovery software MAC efficiently recovers RAW digital photos generated by professional DSLR cameras like Nikon, Canon, Sony, Olympus, Pentax and so on.
Simple to Use & All in One Solution
Amrev photo recovery software MAC is designed with attractive and user friendly interface for all level of computer users, resulting in effective recovery with 3 simple steps.
Complete Do-It-Yourself photo recovery. No technical knowledge required!
Recovers lost and deleted photos from IDE / ATA / SATA / SCSI hard disk drives.
Recovers files from memory cards (SD, XD, MMC, Memory Stick etc.), iPhoto library, iPods, FireWire Drives, USB external drives, camcorders and so on.
Recovers photos from Canon, Nikon, Sony, Olympus, Pentax, Sigma, Minolta, Fuji and many more...
Recovers standard images and professional RAW images generated by professional DSLR.
Save Scan option is available to save the recovery into a file which in turn avoids rescanning.
Preview the recovered files before saving which is available in the Trial version as well.
Single Solution for Home & Professional User
The file formats supported by the versatile Mac Photo Recovery tool includes:
| | |
| --- | --- |
| Standard Formats | JPG, JPEG, BMP, PNG, GIF, TIF, TIFF, JP2, J2K, JPC |
| Raw (Professional) Formats | 3FR, AIF, ARW, CR2, CRW, DCR, K25, MRW,NEF, ORF, PEF,RAF, SR2, X3F, DNG |
| Audio and Video Formats | MP3, MP4, WAV, MIDI, M4b, M4A, AVI, MOV, MPEG, MPG, 3G2, 3GP |
Software can recover pictures from all types of camera which includes the major brands as follows:
| | | |
| --- | --- | --- |
| Secure Digital (Sd) Card | HardDrive (IDE / ATA / SATA / SCSI) | Memory Stick PRO |
| Mini andMicro SdCards | ZIP Drive | Memory Stick DUO |
| MultiMediaCard(MMC) | Pen Drive | Memory Stick DUO |
| xdPicture Card | Floppy Drive | Compact Flash (CF) |
| USB Memory Card | PDA PC Card | Digital Cell Phone |
Poweful utiltity which can deal with Major Data Loss Problems
Photos could become inaccessible due to a number of reasons. Amrev Photo Recovery Software Mac ensures complete photo recovery from the below mentioned data loss situations:
Accidental deletion of photos, audio and video files.
Photos lost due to corruption in iPhoto library.
Photos lost due to memory card corruption.
Memory card is pulled out while the camera is still on.
Unintentional or intentional formatting the computer hard drive or memory card.
Unexpectedly turning off the digital camera during a write process.
File system corruption.
Read/write error messages.
Point to Remember - What to do in Data Loss Situations
As per the recent survey on data loss, majority of the users are facing data loss situation as they rely on strange methods of recovery rather than using a savior like Mac Photo Recovery Software. Relying on such methods may lead to permanent loss of data.
Don't's – Methods that are not supposed be followed:
It is strongly recommended not to use the storage device to copy any data or capture images after data loss.
Making use of low quality photo recovery software may result results in permanent loss of data.
Use the most powerful Amrev Photo Recovery Software to get back your cherished moments.
Contact us to download our photo recovery software Mac and recover those lost or deleted files from your Mac OS.
Easy to Use Tool
It is highly advanced and easy to use Photo Recovery Tool. No technical knowledge required!
Deleted Photo Recovery
Recover lost and deleted photo, audio and video files from Mac volumes.
Formatted Recovery
Recover files even after formatting the drive or emptied from recycle bin.
iPhone Library and iPod Recovery
Recover photos from iPhoto Library and audio and video files from iPod.
Advanced Scan
We value your Precious Time!
Highly advanced algorithm is used to scan the lost files and intensive scan is used to recover photo, audio and video files from a wide range of devices.
Read Only Utility
SIt is a read only utility which only reads/scans the drive to search the lost photos and does not write anything onto the drive.
Supports standard & Professional RAW Formats
It can recover standard photos for home users and professional photos (RAW) for professional users.
Save Scan
Software supports "Save Scan" feature through which scanned information can be saved to the required destination and restored later. This in turn avoids rescanning.
Preview Feature
Preview feature is available for Photos (standard and professional), audio and videos files which ensure the complete recovery of files before purchasing.
File System Supported
Supports recovery of files from HFS+, HFSX formatted Mac volumes.
Supports Tiger, Leopard, Snow Leopard and Lion
Download and install Amrev Photo Recovery Software on fixed drive
Note: Please do not install or copy or download software to the drive or partition from which photos need to be recovered. This would permanently overwrite the files beyond recovery.
Connect the storage device (from which data needs to be recovered) to the computer where Data Recovery Software is installed. Please ensure that the storage device is detected by your computer.
Step 1: Launch Amrev Mac Photo Recovery
Connect the storage device (from which data needs to be recovered) to the computer where Photo Recovery Software is installed. Please ensure that the storage device is detected by your computer.
Launch the software and Select the drive from which, photos needs to be recovered and click on "Next" button as shown in screenshot 1.
Screenshot 1: Mac Photo Recovery Main Window
Step 2: Select the File Types
As soon as you click on "Next" button, various photo file types that could be recovered are listed. Select the file types of photos to be recovered and click on "Next" button as shown in below screenshot.
Screenshot 2: Select the File Types
Step 3:
As soon as you click on "Next" button, Mac Photo Recovery software starts the scanning process as shown in Screenshot 3.
Screenshot 3: Scanning Process
Step 4: Save the Recovered file
Recovered photos are displayed in a well organized tree, sorted with respect to file types as shown in Screenshot 4.
Screenshot 4: Save the Recovered file
You may click on the recovered photo to preview, which gives you a fair idea of recovery possibilities and helps to evaluate the software using the demo version.
Save the recovered data to a safe location by checking the photos you wish to save and click on "Save" You may select the "ROOT" folder to save the entire recovered photo, audio and video files.
Points to remember:
"Save" option is disabled in demo version of Mac Photo Recovery. In order to save the recovered data, you need to purchase the software.
Do not save the recovered photos to the same drive from which, its being recovered. This would permanently overwrite the photos beyond recovery.
While working on the demo version of Photo Recovery Software, the Recovery Snap (Scanning Information) can be saved by clicking on "Save Recovery Snap" button. Later, the recovered data tree can be reloaded, which in turn avoids rescanning the drive.
How to Activate the demo version to full version?
The demo version is exact replica of the full version except the saving option being disabled in demo version. In order to save recovered emails, you need a license key to activate the demo version to full version.
Software can be instantly activated with the help of:
An active internet connection on the computer where the software is installed.
License Key that you have received with order email after purchasing the software
Follow the simple steps to activate the software online
Step 1 Launch the application and click on "Register" button from main application window as shown in screenshot.
Enter the License Key / Activation code in the text field and click on "Activate Now " button. If you have entered a valid key, the software will be activated and confirmation message is displayed. The software is now fully functional.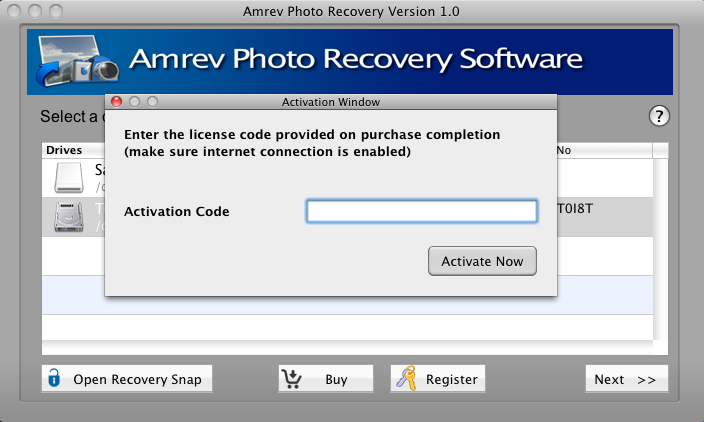 Software Activation
Frequently Asked Questions
1. How does the software get delivered after purchasing online?
Once you place the order, a dynamically generated download link for the full version of Amrev Photo Recovery will be sent to your email address (updated while purchasing).
If you haven't received the download link email, please check in the spam, bulk or junk e-mail folder. If the email is located there, please note that your ISP, spam-blockers or filters are diverting our emails there.
Locate the DOWNLOAD INFORMATION in the email receipt and click on the link to Download and install the software.
2. I have successfully installed the full version but still I could see demo version running.
It is always recommended to uninstall the demo version before installing the full version. In order to uninstall, go to Control Panel/ Add or Remove Programs, select the Digital Photo Recovery Demo and click Change/Remove. Then you can install the full version from the link provided in the email receipt.
3. I am not able to search my camera in the list of available drives. What should I do in order to recover my data?
If you are not able to select the Camera Drive Removable Disk (G:\, etc) even after plugging the camera to your computer, then you would need to pull the memory card from your camera and connect it to a USB Memory Card Reader, a device that connects your camera's memory card directly to the computer through a USB port. This way you can select the memory card as the location from where to restore the images.
4. After recovery, where should I save the recovered files?
While saving the recovered files, always make sure that the output folder (Where you save the files) is not on the same drive where the files have to be recovered. That way you avoid inadvertently overwriting other deleted or lost files. Please save the recovered files to a folder from your hard drive.
If you have to scan a memory card, then save the recovered files to a folder on your computer.
5. Is Amrev Photo Recovery a Windows or Macintosh application?
Amrev provides Photo Recovery for both platform i.e. Windows and Mac. You have to download as per your platform.
6. If the demo previews my photos am I 100% sure that they can be recovered?
Yes, the number of pictures you could see in Demo version, the same can be recovered using full version only if the drive from which the lost data has to be recovered is still intact even while running full version.
There are a few situations:
The demo won't be able to display the picture because it is corrupted /overwritten or the media is fragmented and therefore it can't be recovered.
The demo previews correctly the file based on the EXIF preview (the thumbnail is stored in the file) but that picture was overwritten and therefore is not fully recoverable. This is the situation in which the demo previews photos you will not be able to recover.
7. I accidentally formatted my memory card in an Olympus/Fuji/Casio camera and I am not able to recover my files.
Olympus/Fuji/Casio cameras wipe the media with a blank pattern of 0s for formatting which in turn wipes off the data forever. The Wipe Option overwrites the entire card with zeros, including the file system areas completely and securely erasing the data.
So files deleted using Fuji / Olympus or Casio camera are usually not recoverable, because they initialize the actual image data when deleting, not just mark a file as deleted in the file system.
8. I am not able to choose any drive when prompted on screen as all drives come up as "not ready".
In order to run the software or scan a drive, you would need Administrator's privileges on the computer.
9. Is refund policy available if I am not satisfied with the software? Can I ask for a refund
No, Refund policy is not entertained. We always recommend you to try the demo version which is absolutely FREE to test the software and evaluate the results.
10. I tried running the demo version to recover my corrupted pictures. Unluckily, I was not able to find them in the demo version. Will I be able to recover them in the full version?
Full version is identical to the demo version except the output picture will contain a watermark. Thus, if you are not able to see your corrupted pictures in Demo version then the data might be overwritten and hence, the full version will NOT be able to recover your picture as well.