Amrev Data Recovery software for windows is the most advanced software available to recover deleted files from windows and retrieve formatted or lost data as well. This deleted file recovery software can deal with any data loss situations to easily recover deleted and lost files from hard drive, external hard drive, USB drive, memory card, digital camera, mobile phone, music player and other storage media due to deletion, formatting, software crash, hard drive damage, virus attacking, partition loss or other unpredictable reasons
With just three steps and a few clicks, Deleted File Recovery Software can help you get back whatever you lost!
Prominent Features of Data Recovery Software Windows
Ease of Recovery - Recover any kind of data you lost, such as pictures, videos, audio, emails, documents with ease.
Variety of Storage Media Supported - Recover deleted/lost data from PC, laptop, USB drive, pen drive, memory card and many others storage devices.
Data Recovery from All type of loss - Recover data which lost due to deleting, OS crash, formatting, system error and any other reasons.


Complete Scan - Deleted file recovery Software scans the drive thoroughly and recover data using all possible aspect.

Preview Functionality - The most crucial feature of the Amrev Data Recovery Software Windows is Preview Functionality.

Quality - Using this preview feature, the quality of the photo can be previewed before you decide to purchase the software to recover deleted files windows.
This simple yet powerful easy to use tool does not require any sort of technical knowledge. Hence, this user friendly application enables even a newbie to run the tool with ease.
Amrev Data Recpvery Software performs intense and thorough scanning to locate and restore the lost and deleted files. Once the scanning process is complete, the entire recovered files are listed in a tree like structure which helps you to view the data with ease.
Point to Remember - What to do in Data Loss Situations
As per the recent survey on data loss, majority of the users are facing data loss situation as they rely on strange methods of recovery rather than using a savior like Amrev Data Recovery Software. Relying on such methods may lead to permanent loss of data.
Don't's - Methods that are not supposed be followed:
It is strongly recommended not to use the storage device to copy any data or capture images after data loss.
Making use of low quality deleted file recovery software may result results in permanent loss of data.
Use the most powerful Amrev's Data Recovery Software Windows to get back your cherished moments.
Easy to Use Tool
It is highly advanced and easy to use tool. No technical knowledge required!
Deleted Data Recovery
Recover accidentally deleted data from any type of storage device..
Formatted Recovery
Recover files/flders even after formatting the drive or emptied from recycle bin.
Advanced Scan
We value your Precious Time! Highly advanced algorithm is used to scan the lost files and intensive scan is used to recover files from a wide range of devices.
Read Only Utility
SIt is a read only utility which only reads/scans the drive to search the lost data and does not write anything onto the drive.
Recover from RAW and Inaccessible drive
It can recover data from RAW and inaccessible drive .
Preview Feature
Preview feature is available for photos (standard and professional), audio, videos and others files which ensure the complete recovery of files before purchasing.
File System Supported
Supports recovery of files from FAT32 and NTFS.

Download and install Amrev Data Recovery Software on fixed drive.

Note: Please do not install or copy or download software to the drive or partition from which photos need to be recovered. This would permanently overwrite the files beyond recovery.

Connect the storage device (from which data needs to be recovered) to the computer where Data Recovery Software is installed. Please ensure that the storage device is detected by your computer.
Step 1: Select a option
Launch the software and select the appropriate option and click on "Next" button as shown in screenshot 1.
Screenshot 1: Data Recovery Software Main Window
Step 2: Select Drive
As soon as you click on "Next" button, drive list will be displayed, select the appropriate drive from which data is to be recovered as shown in snapshot 2.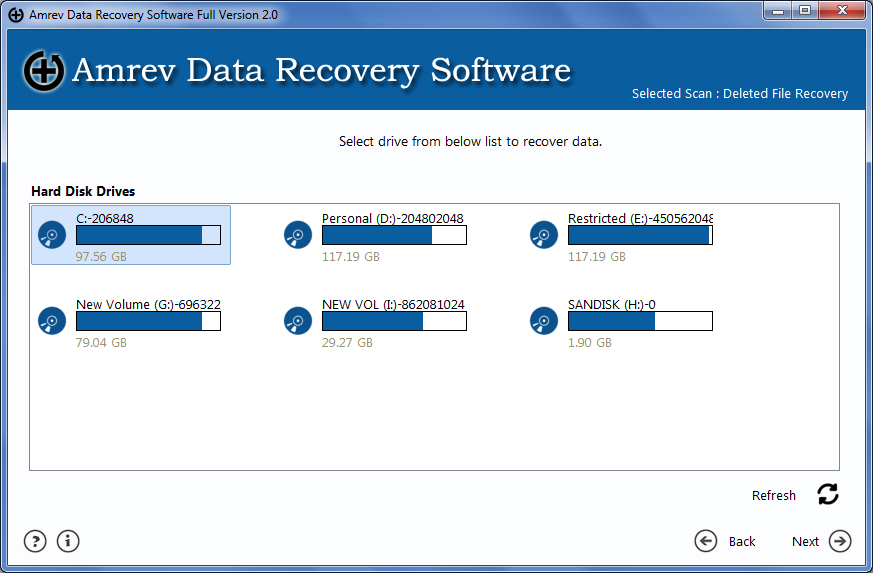 Screenshot 2: Select the Drive
Step 3: Save Recovered files
As soon as you click on "Next" button, software will scan the drive and display the list of files which are recovered as shown in Screenshot 3.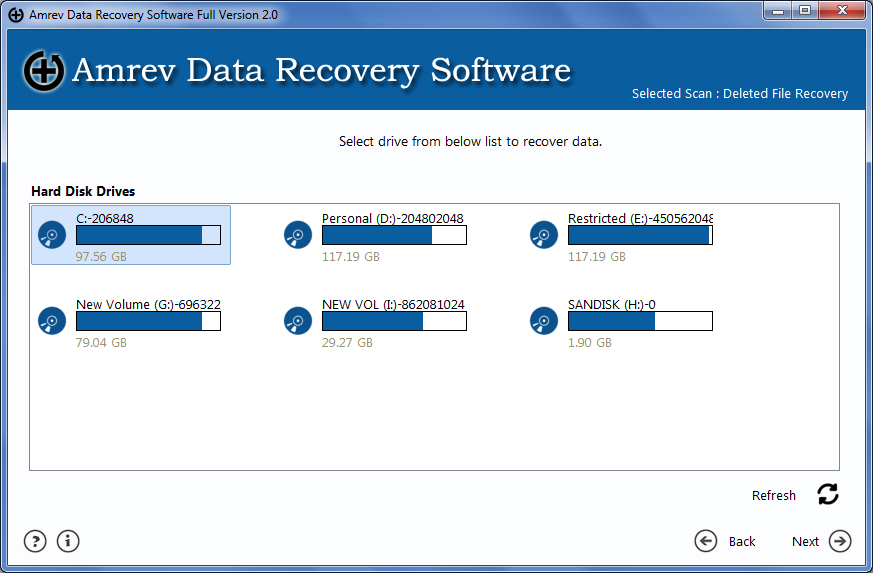 Screenshot 3: Recovered Files
Points to remember:
"Save" option is disabled in demo/trial version. In order to save the recovered data, you need to purchase the software.
Do not save the recovered photos to the same drive from which, its being recovered. This would permanently overwrite the photos beyond recovery.
Activate the Trial / Demo version to Full version?
The demo version is exact replica of the full version except the saving option being disabled in demo version. In order to save recovered emails, you need a license key to activate the demo version to full version.
Software can be instantly activated with the help of:
An active internet connection on the computer where the software is installed.
License Key that you have received with order email after purchasing the software
Follow the simple steps to activate the software online
Step 1 Launch the application and click on "Register" button from main application window as shown in screenshot.
Enter the License Key / Activation code in the text field and click on "Activate Now " button. If you have entered a valid key, the software will be activated and confirmation message is displayed. The software is now fully functional.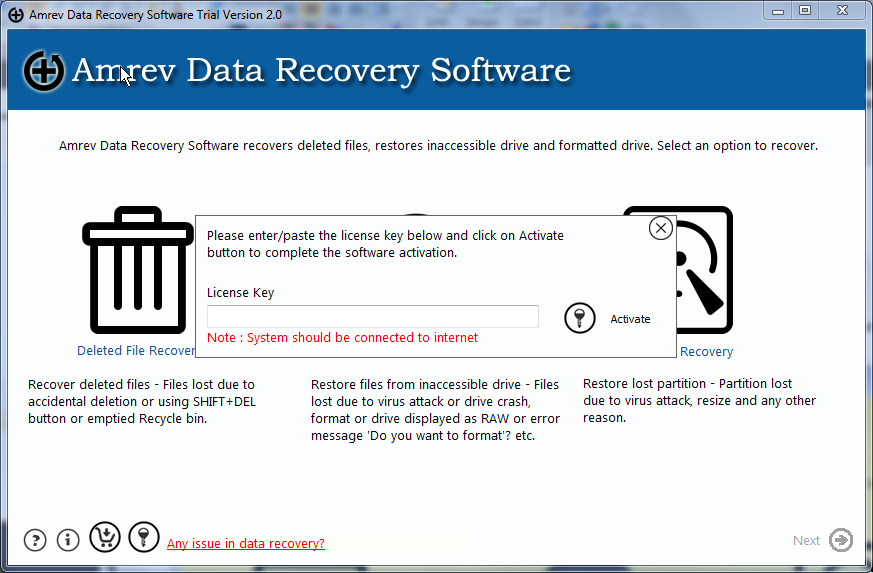 1. How does the software get delivered after purchasing online?
Once you place the order, a dynamically generated download link for the full version of Amrev Data Recovery will be sent to your email address (updated while purchasing).
If you haven't received the download link email, please check in the spam, bulk or junk e-mail folder. If the email is located there, please note that your ISP, spam-blockers or filters are diverting our emails there.
Locate the DOWNLOAD INFORMATION in the email receipt and click on the link to Download and install the software.
2. I have successfully installed the full version but still I could see demo version running.
It is always recommended to uninstall the demo version before installing the full version. In order to uninstall, go to Control Panel/ Add or Remove Programs, select the Amrev Data Recovery and click Change/Remove. Then you can install the full version from the link provided in the email receipt.
3. I am not able to see my SD card in the list of available drives. What should I do in order to recover my data?
You need to insert the SD card into card reader and connect to PC and click on Refresh button, you will able to see the SD card as Removable Disk (G:\, etc) in available drive list which you can select it and recover data. If still you are not able to see the SD card in drive list then replace your card reader and check again.
4. After recovery, where should I save the recovered files?
While saving the recovered files, always make sure that the output folder (Where you save the files) is not on the same drive where the files have to be recovered. That way you avoid inadvertently overwriting other deleted or lost files.
5. Is Amrev Data Recovery a Windows or Macintosh application?
Amrev Data Recovery is a Windows® application. It works under the Windows® OS only.
6. If the demo previews my data, am I 100% sure that they can be recovered?
Yes, the number of files you could see in Demo version, the same can be recovered using full version only if the drive from which the lost data has to be recovered is still intact even while running full version.
7. I accidentally formatted drive, Can I recover my files.
Yes, software can recover data even after format.
8. I am not able to choose any drive when prompted on screen as all drives come up as "not ready".
In order to run the software or scan a drive, you would need Administrator's privileges on the computer.
9. Is refund policy available if I am not satisfied with the software?
Can I ask for a refund Yes, you can ask refund in case your data is not recovered. Please check refund policy.
10. What is the difference in full and demo version?
Full version is identical to the demo version. There is only difference is that you can not save recovered data using demo version.